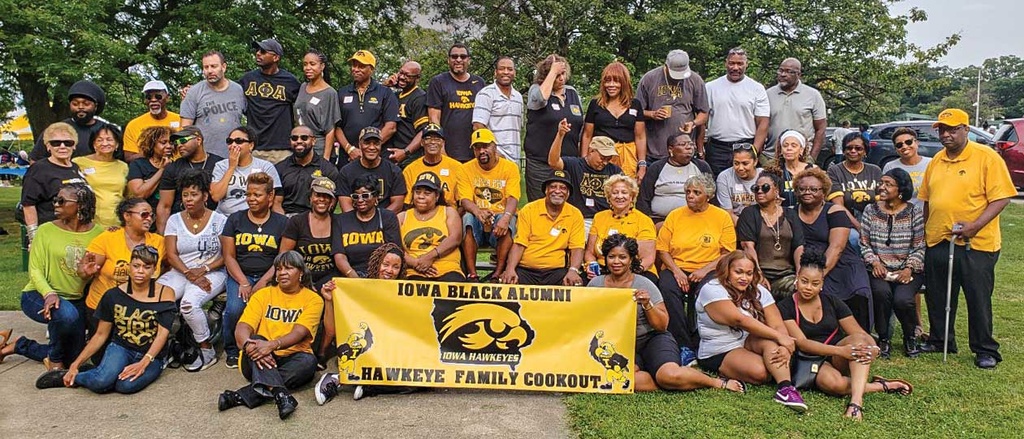 Iowa Black Alumni Association
Iowa Black Alumni Newsletters
Spring 2018 | Winter 2018 | Summer 2019 | Winter 2019 | Spring 2020
---
A group of Iowa alumni and friends gathered at an informal picnic in 1961 at the home of the late McKinley "Deacon" Davis in Rockford, IL. The socializing, the renewal of friendship, and the reminiscing of the "good ole" days at the University of Iowa in Iowa City during the early 50's was so meaningful and enjoyable that the group agreed to organize formally and become the Iowa Black Alumni Association (IBAA). In 1986, the IBAA became officially recognized as an organization under the University of Iowa Alumni Association.
IBAA promotes and supports the general mission and purpose of the University of Iowa. Our organization strives to acknowledge and highlight the academic achievements and community services of African American students and our Alumni. We promote educational opportunities and enhance social and economic conditions of former African American students of the University of Iowa through quarterly meetings and collaboration between our Executive Board and our members. 
IBAA sponsors the following activities in order to provide quality services to all students:
Hall of Honor
Annual Scholarships
Bi-Annual Reunion
Bi-Annual Chicago Cookout
Annual Membership Drive
Mentoring
Networking
IBAA began awarding scholarships in 1993. There have been over 25 student recipients of IBAA scholarship. Since 2006, more than $20,000 has been awarded to 16 students. The IBAA Scholarship Fund offers UI students a $1000 award annually.  The fund was recently endowed at $54,000.  Each year the endowment will allocate about 5% for scholarships. However, the more money we have in the endowment fund the more scholarships we can offer.  If you are interested in making a donation go to: University of Iowa Foundation/ IBAA Scholarship Fund #30120236    
Board Chair:
Billie Townsend
cheespeedy@msn.com
For further information, visit our website at: https://www.foriowa.org/groups/iba-association.php,
or reach us on Facebook: https://www.facebook.com/IowaBlackAlumniAssociation
---
IBAA Letter to President Harreld
June 30, 2020
The Iowa Black Alumni Association was established in 1961. Our mission is to highlight academic achievement, encourage community service, and enhance the social, economic and cultural growth of UI students of color. Because of current, troubling racial events the IBAA Board of Directors requests a Zoom meeting at your earliest convenience to discuss several concerns.
We support the student protests related to the Black Lives Matter movement, however we don't condone looting, violence or the defacing of University property. Many seminars, speakers, panel discussions and statements of support for Black faculty, staff and students on campus are being planned, but these are just surface responses, and we are interested in discussing possible actions that will make a real difference.
We are concerned about the problematic racial climate reported by more than 50 Black UI student athletes. We want to discuss specific actions that should be taken. 
We are concerned about the status of African American Studies on campus and want to discuss moving AAS from a program back to a department and reestablishing the AAS Master's Degree. 
We are concerned about the recruitment and retention of Black faculty and staff. Real and demonstrated progress must be made in the number of Black faculty and staff hired, along with better retention efforts. 
We are concerned about the challenges of campus culture. An increase in the number of Black students, graduate and undergraduate, is crucial to improving the experience at Iowa for students of color.
We are concerned about African American communities in Iowa and surrounding cities. We believe that the UI's development of the Midwest Institute for African American History and Culture is crucial to better understanding and helping these communities.
The IBAA looks forward to meeting with you and working toward the creation of a more diverse campus with an improved cultural climate. We can be reached through the IBAA President Billie Townsend cheespeedy@msn.com. 
Sincerely,
The Iowa Black Alumni Association Board
Billie Townsend, Orville Townsend, Joey Thurmond, Venise Berry, Tyna Price, Michael 
Freeman, Larry Holden, David Brown, Janice Cousin, ayo dayo, James Hamilton, Tom 
Harris, Claranne Perkins, George Proctor, Donita Devance, Jocelyn Tomorris, Martha 
Zachary, Kimberly Lacey-Chappelle.